Where to Stay in Eeklo
Eeklo is a small town (20.000 people). We recommend a couple of small hotels which aren't too far from our offices. Expect spending around 90 Euro for a room (1 or 2 people), including breakfast.
Hotel Shamon


(2km from office)
Gentsesteenweg 28 | 9900 Eeklo | Tel: +32 (9) 378.09.50
www.hotelshamon.be
This boutique hotel is situated in a manor from 1909 and is classified as "landmark." This may be a good choice if you are looking for a charming hotel, and they have wireless internet, too! If they would be "fully booked", they will help you to find another place to stay.
Hotel Isola Bella


(one village further down the main road to Ghent -- 4,5km from office)
Guido Gezellelaan 27 | 9950 Waarschoot | Tel: +32 (9) 218.09.70
www.hotel-isolabella.be
This is a modern hotel - also recommended. jobEQ's staff are regular customers in their restaurant. If you are coming to a jobEQ training between May and September, and the weather would be nice, it's good to know this hotel offers airconditioning...
Ring Hotel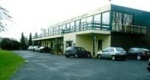 (2km from office, but 4 km from the train station)
Ringlaan 20 | 9900 Eeklo | Tel: +32 (9) 378.00.02 | Fax: +32 (9) 327 01 46
www.ringhotel.be
The Ring Hotel was recently renovated and offers 12 modern rooms. The rooms have wired internet (available for a small charge per week). They are a bit further from the town center than Hotel Shamon, but some bikes are available to their guests.
Where to Stay in Ghent
Ghent is one of the largest cities in Belgium, with a population of about 250,000. The city is rich in culture and history, and it is not far from our headquarters if you are travelling by car or train.
Near the train station:
Best Western Hotel Chamade


Kon. Elisabethlaan 3 | 9000 Gent | Tel. +32 (9) 220.15.15
www.chamade.be
200m from railway station - a recently renovated 3-star hotel with reasonable prices. It was liked by several jobEQ customers who stayed there. It's also close to the Citadel Park and the SMAK, the City Museum of Modern Art.
Intercity Hotel Gent - Trianon
Voskenslaan 34 | 9000 Ghent | Tel. +32 (9) 220.48.40 | Fax: +32 (9) 220.49.50
http://www.hoteltrianon.be
another 3-star hotel, situated less than 100 meters behind the railway station - given we are an internet company we added it to this list since we heard it has free wireless internet access in the rooms and its room rates are decent as well.
In the center of town:
The center of Ghent is an interesting, historical place with plenty of pubs and restaurants. The town center can be reached from the train station in about 10 minutes by public transport (tram) or taxi.

Ghent Marriot Hotel
Korenlei 10 | 9000 GENT | Tel:+32 (9) 233 93 93 | Fax: +32 (9) 233 93 94 | emial: info@marriottghent.com
Marriott web site
This is a quite recent 4-star hotel situated right in the middle of town on one of the nicest locations. It has 139 luxurious rooms and 11 suites. The catch? Standard room rates are around 180 Euro...

Novotel Gent Centrum
Goudenleeuwplein 5 | 9000 GENT | Tel:+32 (9) 224 22 30 | Fax: +32 (9) 224 32 95
Novotel web site
This hotel is near the town hall, Belfry Tower & St Bavo cathedral. It is a three-star hotel with 117 rooms, restaurant, bar, private parking, outdoor swimming pool, and sauna. American Express, Diners Club, Eurocard, and VISA are accepted. Single room with bath: 129 Euro / Double room with bath: 134 Euro

More hotels can be found on the web site for Ghent: visitgent.be/
Other Options
Other visitors have been staying at Bed & Breakfast addresses nearby. I heard positive feedback from "B&B Cambiare" in Eeklo (1,2km) and from "B&B Summergem" (6,7 km from here). Additional hotels are also worth mentioning: "Het Godshuis" in Sint-Laureins (about 7km) and "Cleythil Hotel" in Maldegem (about 8km). Both hotels have been used by people having a car or willing to do some serious biking...
Obviously, you can find these and other options at Booking.com or AirBnB.

Back to Directions
Back to Contact jobEQ